What's New at GVRD:

FALL SPORTS are starting soon at GVRD! Register
now for Cubbies, Youth and Adult sports programs,
including: Basketball, Baseball, Soccer, Tennis,
Flag Football, Golf, NEW! Cubbies Volleyball
(Ages 3-10) & NEW! Girls Softball (Ages 8-14).
Register here or call 648-4600 or 648-4611

Beginning October 1, all classes will resume at the
Vallejo Community Center as regularly scheduled.
Thank you for your patience during the temporary
closure last month.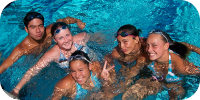 Aquatics
Swim Lessons
Afterschool @ The Pool
Lap Swim & Recreation Swim




Stay active by joining our Martial Arts classes!
Classes for ages 4 and up
Click here for class descriptions and locations




New Centers' Virtual Tours!
R.S.V.P with GVRD for your next event!
You are invited to take a virtual tour of our four
conveniently located facilities.
Children's Wonderland
October - November
Monday-Sunday (Closed on Tuesdays)
11:00am-4:30pm (Daily operation is contingent on weather)
$2 per person (Cash only)

Learn about PARTICIPATORY BUDGETING projects
for the City of Vallejo and vote at five upcoming
community events. Click
here
for information.