What's New at GVRD:


Upgrade completed: GVRD has installed a new telephone system so we can better serve our customers. Now when you contact us, you will have the option of choosing a directory of departments, extension number, dial by name or press 0 for operator. Thanks for your patience.




July is Park & Recreation Month - 80's style!
GVRD will celebrate showing 80's movies at our
FREE Family Movie Night
Saturday, July 11 & July 25
Children's Wonderland doors open at 7:30pm



Top of the Bay Summer Camps and more!
Don't miss the fun this summer and register early!
June 14 - August 14
Regular care: 9am-3pm, Extended care: 7am-6pm





FREE! Run Jump Throw
Saturday, August 22 at Wilson Park
2:00pm-5:00pm
Participants Ages 7-12 must pre-register



Children's Wonderland
April - September
Monday - Sunday (closed on Tuesdays)
11:00am-5:30pm (Daily operation is contingent on weather)
$2 per person (Cash only)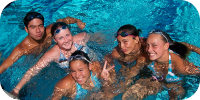 Aquatics
Swim Lessons
Summer Programs
Lap Swim & Recreation Swim




NEW! Introduction to Teacher Kay's Alphapals®
Don't miss this new class for kids ages 2.5-5 at the
Vallejo Community Center, 225 Amador St.




Get ready for Summer!
Visit our Outdoor page & register soon!
Programs at McIntyre Ranch & Backpacking class





Is it time for a vacation? Learn about our variety of
Trips & Tours around the world!
Sign up for a great experience and adventures,
relaxing trips, to learn a new culture and more!




SPORTS are starting at GVRD!
Programs for all ages
Register now for Cubbies, Youth and Adult

New Centers' Virtual Tours!
R.S.V.P with GVRD for your next event!
You are invited to take a virtual tour of our four
conveniently located facilities.




Art has a purpose, which is to interest it's
audience. Click here for more info. on the Vallejo
Arts and Entertainment District.