CO-ED BASEBALL (Let's play BALL) • Ages 8-13 ▲
This 7 week Baseball Program will focus on the basics of playing baseball. Your children will learn how to throw, catch, base run, hit, play defense, pitch, and so much more. We will have three weeks of clinical practice, and after that we will play 4 full games. The participants will hit off a pitching machine during the game. Each kid will receive a hat and t-shirt during the season.
Location: Dan Foley Artificial Sports Field
Cost: $60/player
JR. GIANTS FREE SUMMER BASEBALL • Ages 8-13 ▲
The Junior Giants is co-sponsored by the Mayor's Cup Recreation Fund, the San
Francisco Giants and the Greater Vallejo Recreation District. Players are provided
with uniforms, caps and equipment. Hitting off a pitching machine will make this
low-key recreational league fun and instructional. Each team guaranteed four
practices and six games. If you are interested in coaching, sign up at the coaches
table on the first day of the activity. Each team is limited to one coach.
Location: Vallejo Little League
Cost: FREE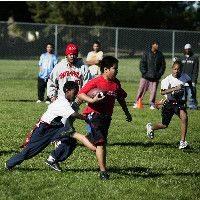 YOUTH FLAG FOOTBALL
(Are you Ready for some FOOTBALL) • Ages 7-13 ▲
This program is designed to teach the basic skills of football, passing, blocking,
catching and plays. The 6 week program will just consist of FOOTBALL
PRACTICE ONLY and some games. We want to make sure you child has what it
takes to come out and play during the Regular Season.
Location: Wardlaw Elementary School
Cost: $60/player




CO-ED WRESTLING • Ages 11-13 ▲ GVRD Wrestling gives our youth in Vallejo an option to come out and learn the old ways of wrestling. Each school that participates gets a coach that comes out to their schools and trains with them 2 weeks prior to the Tournament. Each participant is allowed to try and qualify for a match on Tuesday and play in the tournament on Wednesday.Each wrestler gets a t-shirt and a medal for participating.
Location: Hogan Middle School
CO-ED VOLLEYBALL • Ages 10-13 ▲ This 6 week program will teach players basic volleyball skills such as hitting, spiking and setting. This league will have two clinical practices and then lead into League Play versus each other. After week two, we will choose teams based on skill and age. Each player will receive a t-shirt.
Location: Hogan Middle Small Gym
Cost: $60/player

MIDDLE SCHOOL BASKETBALL PROGRAM • Ages 10-13 ▲ This Middle School Basketball Program is a more noncompetitive basketball league for our youth to join. We will give teams two weeks to practice/evaluate with their coaches. After the two weeks, we will play 4 League games against others teams in We will have 2 weeks of clinical workouts for the players. We will then have them place into teams to play out the season.
Location: Hogan Middle (Big Gym & Small Gym)
Cost: $60/player


YOUTH CO-ED FUTSAL SOCCER CAMP • Ages 7-13 ▲
Is your child out of school this summer looking for an activity to get connected into? Then GVRD's Futsal clinic is the answer that you are looking for. Futsal is the way the world plays indoor soccer; this two week program will expose your child to the fundamentals of Futsal. Futsal is a great skill developer demanding quick reflexes, fast thinking, and passing while under pressure. Participants will become aware of time and space with movement of the ball, and the ability to identify when to dribble and pass the ball. You do not need to have any soccer experience or background in order to learn the game of FUTSAL.
Location: Hogan Middle School
Cost: $75/a week resident,$85/week nonresident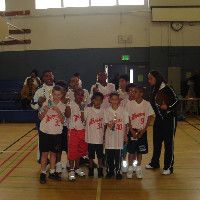 YOUTH CO-ED BASKETBALL CAMP • Ages 7-13 ▲
Boys and girls, join GVRD's annual coed summer basketball camp! Participants
will have fun while improving the fundamentals of ball handling, passing, lay ups,
footwork and more. Participants will receive a t-shirt during camp.
Location: Franklin Middle School
Cost: $75/week resident, $85/week nonresident