NEW! CO-ED SUMMER SPORTS CAMP • Ages 7-15
Boys and girls, join GVRD's all new co-ed summer SPORTS CAMP! Participants will have fun while improving fundamentals in Basketball, Football, Baseball, Soccer, & Volleyball. There will be a 2-week session of camp for each sport. Participants will receive a t-shirt during camp. NOTE: Please bring a brown bag lunch and water for the day.
Location: Mare Island Sports Complex
Cost: $75/per week Dates: Mon-Fri, June 16-Aug 15
*See flyer for more info

JR. GIANTS SUMMER BASEBALL • Ages 7-15
The Junior Giants is co-sponsored by the Mayor's Cup Recreation
Fund, the San Francisco Giants and the Greater Vallejo Recreation
District. Players are provided with uniforms, caps and equipment.
Hitting off a pitching machine makes this low-key recreational
league fun and instructional. Each team is guaranteed five
games. If interested in coaching, sign up at the coaches table on
the first day of the activity. *You must register your child
with GVRD here, then also register through SF Giants here
Location: Vallejo Little League Field & 401 Amador St.
Cost: FREE to first 100 to sign up for each baseball age group
& to first 50 to sign up for girls softball

CO-ED Baseball (Ages 7-10): Monday
CO-ED Baseball (Ages 10-15): Tuesday
GIRLS Softball (Ages 7-15): Wednesday

YOUTH FLAG FOOTBALL • Ages 7-13
Are you ready for some FOOTBALL? This 8-week, 2 days a week, program is designed to introduce the basics of football including running, catching, blocking, passing and defense.
After training, players are drafted into different teams and will play in organized games.
Location: Wardlaw Elementary School Cost: $75/player


CO-ED WRESTLING • Ages 11-13
GVRD Wrestling gives our youth in Vallejo an option to come out and learn the old ways of wrestling. Each school that participates gets a coach that comes out to their schools and trains with them 2 weeks prior to the Tournament. Each participant is allowed to try and qualify for a match on Tuesday and play in the tournament on Wednesday. Each wrestler gets a t-shirt and a medal for participating.
Location: Hogan Middle School Cost: $20/player


CO-ED VOLLEYBALL • Ages 10-13
This 6-week program teaches players basic volleyball skills such as hitting, spiking and setting. This league will have 2 clinical practices then lead into League Play versus each other. After week two we will choose teams based on skill and age. Each player receives a t-shirt.
Location: Hogan Middle Small Gym Cost: $60/player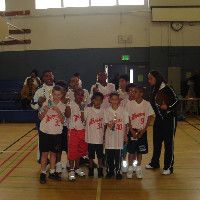 YOUTH CO-ED BASKETBALL CAMP • Ages 7-13
Boys and girls, join GVRD's annual co-ed Spring and Winter
Basketball Camp! Participants will have fun while improving the
fundamentals of ball handling, passing, lay ups, footwork and
more. Participants will receive a t-shirt during camp.
Location: Mare Island Sports Complex
Cost: $75/week




CO-ED BASEBALL (Let's play BALL) • Ages 8-13
This 7-week baseball program focuses on the basics of playing baseball. Your child will learn how to throw, catch, base run, hit, play defense, pitch, and much more. We will have three weeks of clinical practice, and after that play 4 full games. The participants hit off a pitching machine during the game. Each child will receive a hat and t-shirt during the season.
Location: Vallejo Little League Sports Field
Cost: $70/player


Golf • Ages 7-17
This is an intensive class with time on the driving range, learning techniques to understand how the golf swing actually works and focuses on getting participants ready to start playing golf. Topics include physical attributes of the golf swing, basic golf rules, proper etiquette and the importance of maintaining appropriate "pace-of-play". Supplies Needed: Shirt with sleeves, pants or shorts with pockets, and shoes (no flip flops). Long hair should be tied back. Hat, sunglasses and sun block are also recommended. Blue Rock Springs will supply participants with LOANER Golf Clubs for the session. Golf Clubs stay on site.
Location: Blue Rock Springs Course Driving Range
Cost: $60/session


USTA QUICKSTART TENNIS • AGES 5-10
Quickstart is a new format to help kid learn and play tennis. To make it easier for them we've changed a few things: the court sizes, racquet sizes, balls, scoring system, and net height. Any child between ages 5-10 can start playing tennis almost immediately, even if he/she has never picked up a racquet before. GVTA will provide rackets and balls to use during the program.

Location: Amador Tennis Courts
Cost: $70/per 8-week session

USTA JUNIOR TEAM TENNIS • AGES 7-14
Junior Team Tennis builds upon Quickstart Tennis. It still adjusts the court size, racquets, balls and scoring to allow kids to quickly grow their tennis abilities. JTT teaches advanced skills using multiple formats & is an opportunity for juniors to develop individual skills in a fun yet competitive atmosphere. Students will grasp and use all the basic strokes, learn to play singles and doubles matches, and develop their tennis game to a level that allows them to play and enjoy tennis throughout their lives.

Location: Amador Tennis Courts
Cost: $80/per 8-week session